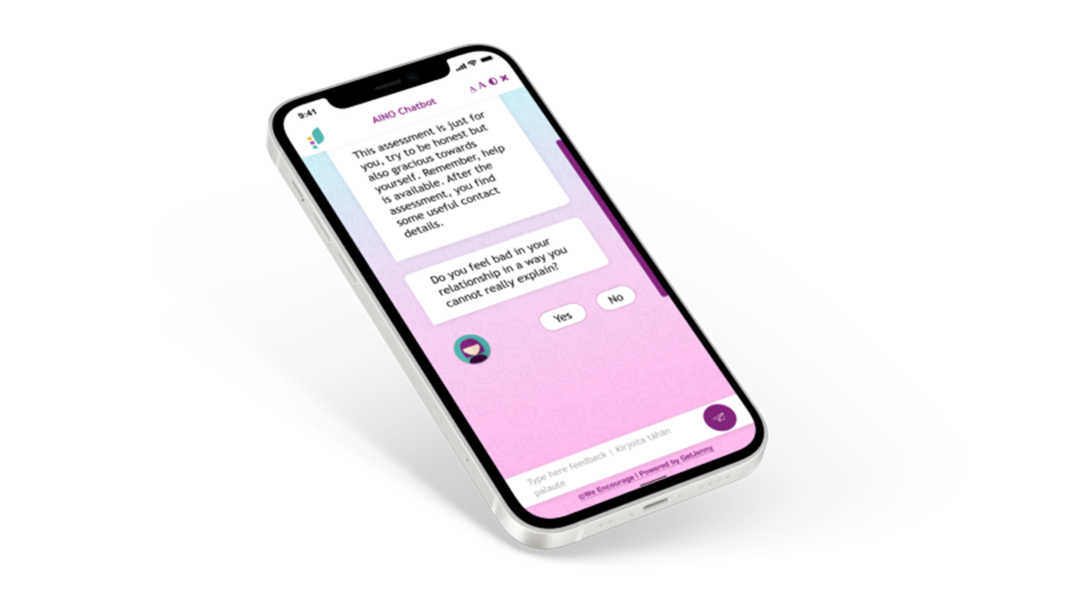 AINO Chatbot to Support Victims of Domestic Violence
Felm and its partners worked on AINO chatbot to support victims of domestic violence in Tanzania.
Introduction
There is a high level of domestic violence in Tanzania. Nearly three-fourths of ever-married women have experienced some degree of marital control. The current level of help-seeking is adversely affected by family and community pressure.
The aim of Felm's and its partners' experiment was to part of a longer collaborative project to build a conversational AI tool AINO that offers psycho-social support for victims of domestic violence. The project also aims to build a supportive ecosystem around the tool with key partners.
The experiment focused on building a prototype of the tool and building partnerships to further the project in the future. The experiment was conducted by Felm, Evangelical Lutheran Church of Tanzania, Hyvinpitely and We Encourage.
Results
The experiment brought together different actors, including research institutions, NGOs and service providers to share information and to plan solutions. At the heart of the experimentation was to identify and get on board relevant stakeholders with the aim to continue with a broader set of partners towards the next project phase. This was conducted successively.
The organizations conducted online workshops to understand the ecosystem and the needs of potential users. The workshops also provided insights into ideating the service path for users and stakeholders. Importantly, the organizations conducted research and interviews to collect information and insights from the workshops and conversations.
Additionally, a prototype of the tool in Swahili was built. The prototype provides support and links users to services in a way that is not visible to family members and the broader community. In this way, it helps to break the stigma associated with help-seeking.
During the experiment, there was also a large women's day webinar organized by the organizations and Fingo. The event collected participants from key stakeholder groups.
No major challenges appeared during the experiment. However, the weak gender-based violence service network set its limitations. It is challenging to create a guiding and supportive tool when there is a limited number of places to direct the victims to. This challenge is taken into consideration in the next project phase.
Scaling
Continuum funding for the project was secured from Embassy of Switzerland in Tanzania for December 2021 – October 2022. The experiment was done by Felm, Evangelical Lutheran Church of Tanzania, Hyvinpitely and We Encourage.