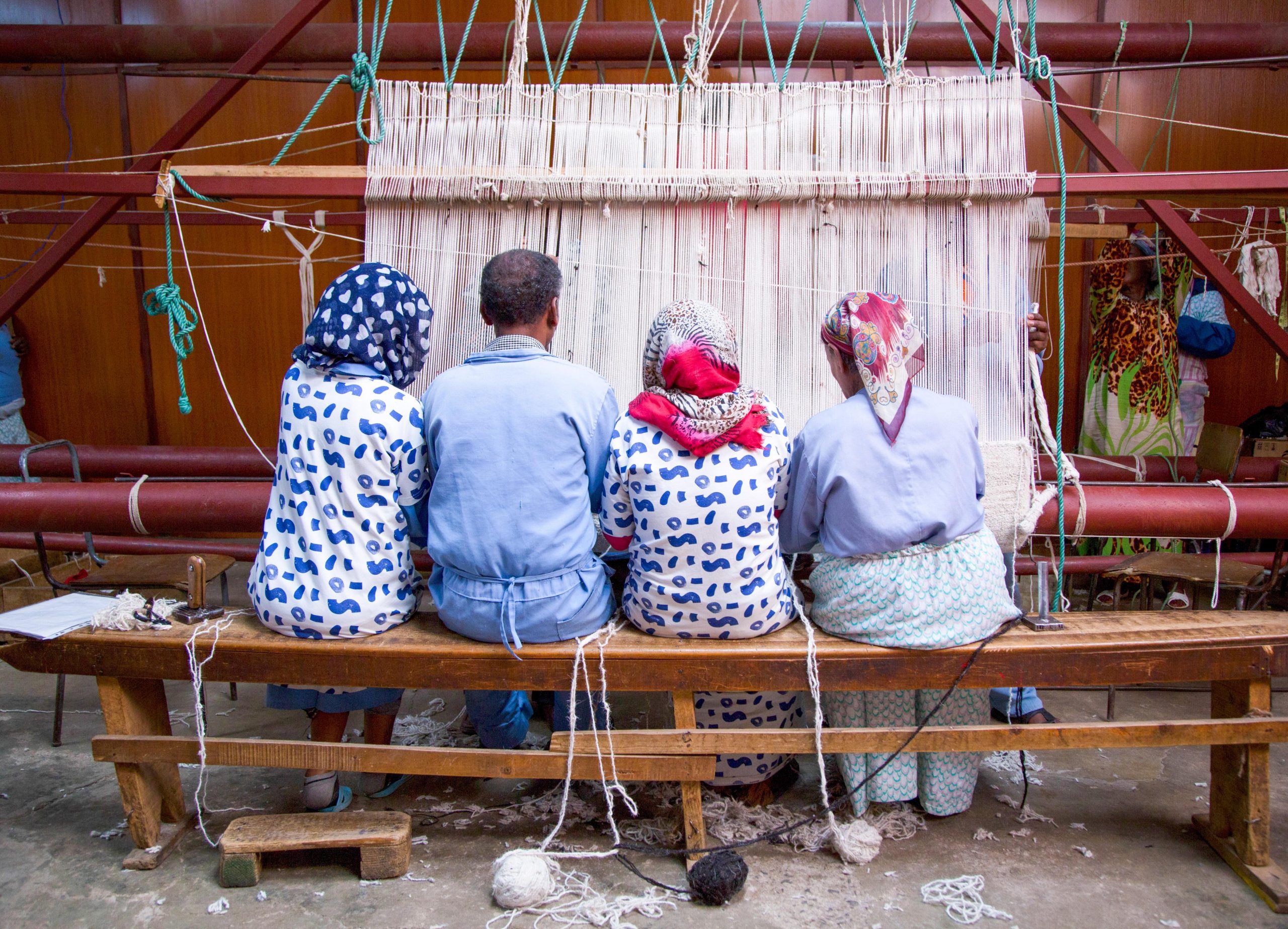 Women with disabilities earn income by making carpets in Ethiopia – NGO & private sector success story
Women with disabilities have earned income in Ethiopia by making carpets that are exported to the Nordic Countries, United States and Canada, among other. This results from the collaboration initiated by Sera Helsinki and Abilis Foundation. The success has required shared objectives and discussion – and thought that Gosa Zeleke realized in his childhood.
That morning Gosa Zeleke, 9, had woken up early.
The sun was still to rise, and the air felt freezing on Zeleke's face. He was walking towards a primary school in the Ethiopian countryside. The journey felt lonely; there was no one to be seen nearby him.
Zeleke was up before anyone else because of an impairment in his left foot. It had been caused by polio and hindered his walking. Hence, Zeleke needed to begin his school journey earlier than his classmates – otherwise, he would be late because of the challenging terrain.
The disability is a punishment from gods, cast because of past generations' deeds. That was what Zeleke's family believed. His parents were afraid that education would not offer their son fair opportunities. Still, they encouraged him to study.
"However, you can also build a business or work with me here in the countryside when you have grown up", his mother sometimes tried to console him.
Yet, Zeleke dreamt about a different future. That was why he, once again, was walking towards the school. Education would allow him to decide the direction of his life – nothing would dictate his fate.
While the school came closer, a thought flashed Zeleke's mind: If he could do this, he would be able to do anything. No obstacle would be insurmountable for him.
On that same morning, Zeleke felt like he was growing stronger.
DECADES LATER Zeleke is an integral part of a project that supports women with disabilities to generate income in Ethiopia.
Carpets are at the core of the project. Sera Helsinki is a Finnish company that exports carpets from Ethiopia to the markets of Western countries. Most of the carpets are produced by women with disabilities. By making the carpets for Sera, women earn a better livelihood than from the local market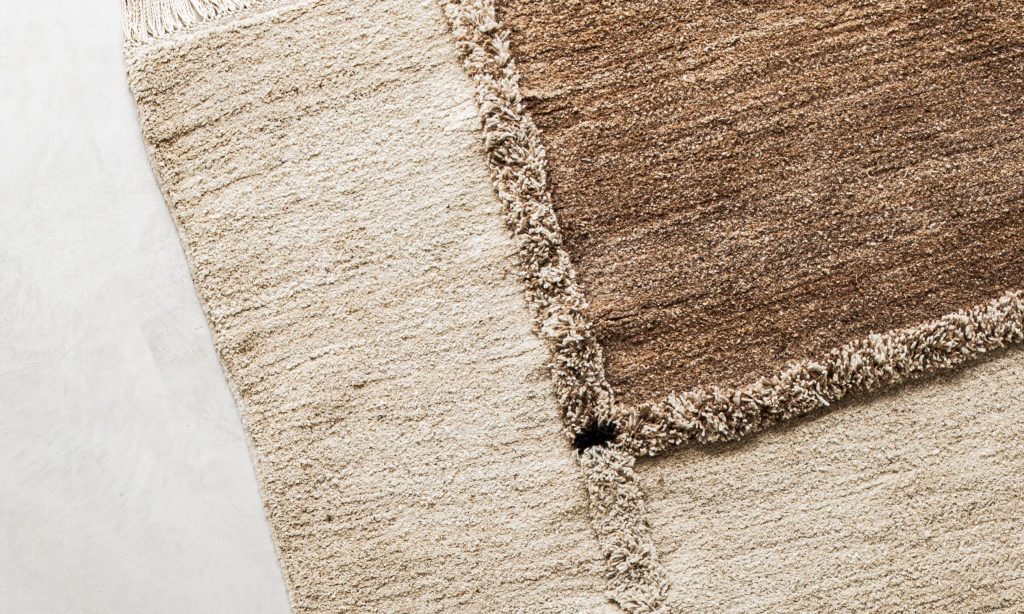 "Our goal is to get all the wool and yarn production in the hands of women with disabilities. In that way, we would create hundreds of new jobs in particular rural areas of Ethiopia, where extreme poverty is commonplace," says Anna Suoheimo, founder of Sera Helsinki.
Alone, the task would be impossible. Therefore, Abilis Foundation, Empower Persons with Disabilities Ethiopia Association (EPDEA) founded by Zeleke, Ethiopian Women with Disabilities National Association (EWDNA) and a local business Ennat Design are involved.
With the help of their networks, NGOs and Ennat Design support Sera Helsinki to identify groups of women with disabilities and involve them in the carpets' production. Often, the women establish cooperatives or micro-businesses to which they get start-up funding from the Abilis Foundation.
With the funding, the women are able to buy, for example, sheep, spinning wheels or other tools that are needed for making rugs. The women are also supported with training and equipment, among other things.
Although the collaboration is still in the early phases, over 300 people have already benefitted. Many of them have earned income while others have, for instance, learned business skills from training sessions that Abilis has organized.
With the support of the NGOs, the women also learn about life skills and their human rights so that they can become active members of society and their communities.
HOWEVER, discriminatory structures stick tight. Therefore, Zeleke's role is particularly significant. He and his organization EPDEA – together with EWDNA and Ennat Design – convince communities and people that women with disabilities can work and earn an income.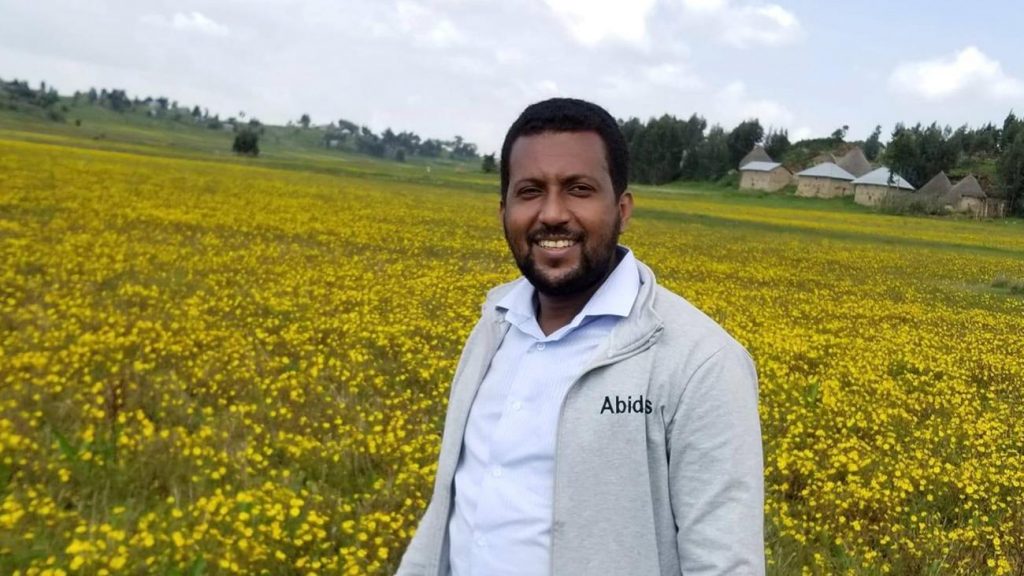 "Most of the people with disabilities face discrimination and many of them are poor. They do not usually have a significant kind of income. We are trying to change the mindsets about people with disabilities in Ethiopia", Zeleke explains.
Out of the 109 million population in Ethiopia, 17,5 percent have a disability. More than 95 percent of them live in poverty – mostly in the rural areas where also their possibilities to work are limited.
Only 7,8 percent of children with disabilities have access to school in Ethiopia. The older the children are, the fewer of them go to school. Girls and women are particularly vulnerable because they face discrimination also because of their gender.
"There are different attitudinal problems toward people with disabilities. For instance, when you walk to school or get transport, you face different infrastructural challenges. Those responsible for the design did not consider people with disabilities", Zeleke says.
Zeleke himself excelled in school in such a manner that he could apply to a university – after all the early mornings. Even then, he was encouraged to pursue social studies, although he was interested in economics. Close people were worried about how he would cope in the business world with his impairment.
Nevertheless, Zeleke kept his head. He completed the degree and employed well.
"I wish that people with disabilities could follow their own interests and hopes", Zeleke describes.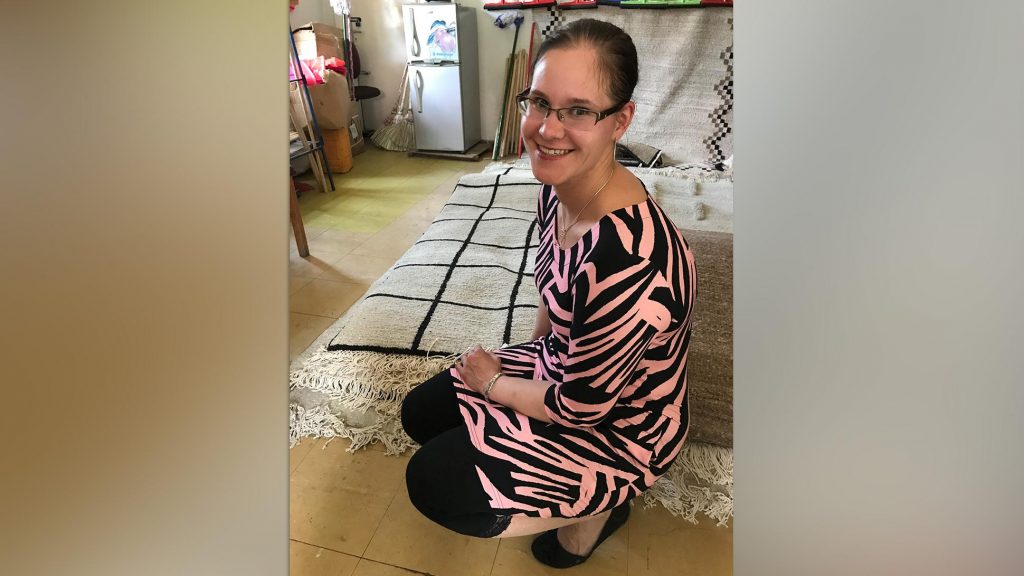 THE PROJECT by Abilis, Sera Helsinki, EPDEA, EWDNA and Ennat Design is part of the solution. But how have the NGOs and companies been able to achieve this outcome? What is behind the successful collaboration?
"We have a common vision and goal: we pursue the same thing and we complement each other's work. Everyone's vision is to improve the situation, living conditions and human rights situation of people with disabilities in Ethiopia", says Hanna Kähkönen, Ethiopian country coordinator of Abilis.
The roles are distinct. Simply put, NGOs have contacts to people with disabilities and the capacity to support them. In contrast, Sera Helsinki holds responsibility for the design and the business aspects. Ennat Design's responsibilities include logistics and vocational training. The end result is that women with disabilities generate income for themselves and their families. The collaboration structure is explained in more detail on Sera Helsinki's website.
All parties also emphasize the importance of communicating. Key persons meet remotely every week. In the meeting, they identify potential problems and seek solutions to them. Thanks to the meetings, everyone also stays up to date.
"If we would wait for something to happen, nothing would happen. Success requires an active role from all of us," Kähkönen says.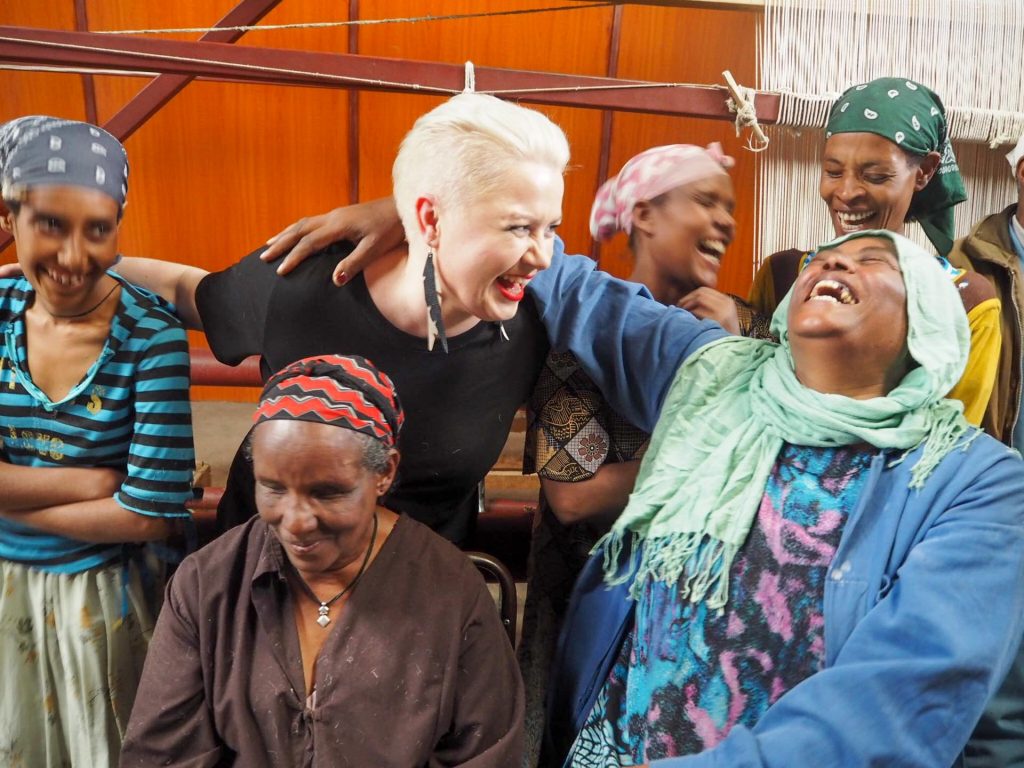 Zeleke reminds that the collaboration between NGOs and companies can be very sustainable, as the impact is generated with the support of market forces.
Zeleke also underlines that all the parties have learned from each other during the collaboration – both CSOs and companies. Further, Zeleke emphasizes that success has required understanding from both sides.
One of the crucial things is that the right people are involved. Everyone agrees on this. However, they only properly learned it through failure.
WITH THE FIRST Ethiopian partner NGO, the collaboration did not work out. Perspectives were too far apart and the flow of information lacked.
Just before the end of cooperation, the organization had transferred Zeleke – previously hired by them – as a contact person to Abilis and Sera Helsinki due to his educational background in economics.
Eventually, the situation was resolved by a risk taken by Zeleke: he found a new organization with the support of Abilis and continued to work on the project. The decision was not easy, as Zeleke had just had a child with his wife and was worried about his own family's livelihood.
Even then, Zeleke's decision was based on the similar thoughts that had followed him all his life. People with disabilities need to have the opportunity to impact their lives and earn an income. Zeleke pondered that by taking the risk he can further that objective.
Eventually, all went well. Organization for women with disabilities EWDNA also joined the collaboration and with local authorities, the NGOs were able to identify over 150 women with disabilities who then begun to rear sheep and make woolen thread.
Kähkönen emphasizes that choosing the right partner and having clear discussions with them is vital. Roles and responsibilities need to be clearly agreed upon
"In the actual conversation, it is good for both parties to really get to know each other. For instance, it is important to find out what the partner's attitude is towards corporate collaboration", Kähkönen says.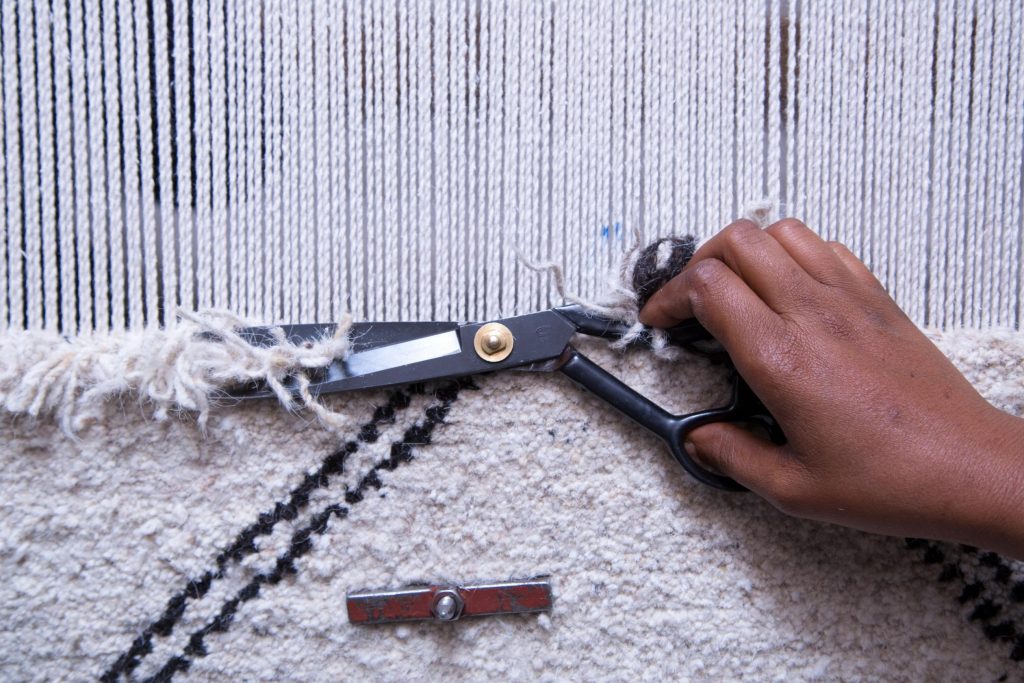 TRADITIONALLY, knitting carpets has been a low-income trade in Ethiopia. One of the challenges in the project has been to ensure the desired level of livelihood for all the employees. This has not been possible in all cases, although Sera Helsinki pays a significantly higher price for the carpets than the local markets.
The project aims to tackle the issue by training the employees more and providing them with better equipment. Moreover, it is estimated that in some cases, the price paid for the carpets does not end up to the artisans themselves in a level that the project aims at but in the structures of the weaving mills. The challenge only relates only to some of the mills.
"We are actively and continuously engaging this issue in many ways", Suoheimo opens.
Suoheimo reminds that although there are still challenges, the project has had a great impact on the livelihood of those involved. Reaching societal objectives requires long-term and determined effort.
Now, Sera Helsinki and the NGOs are trying to make people with disabilities work at all production chain stages. From sheep farming to carpet weaving. For instance, winding wool and making yarn offers many possibilities for income in the countryside.
The first spools of yarn were completed last summer. One hundred kilos of yarn had been wound in a short time. When Kähkönen received the information, she wanted to bounce up and down because she felt so joyful.
"The yarns had been made traditionally by hands and sticks, as the tools we had ordered had not even arrived yet. But the women were so excited and motivated that they worked nonetheless", says Kähkönen.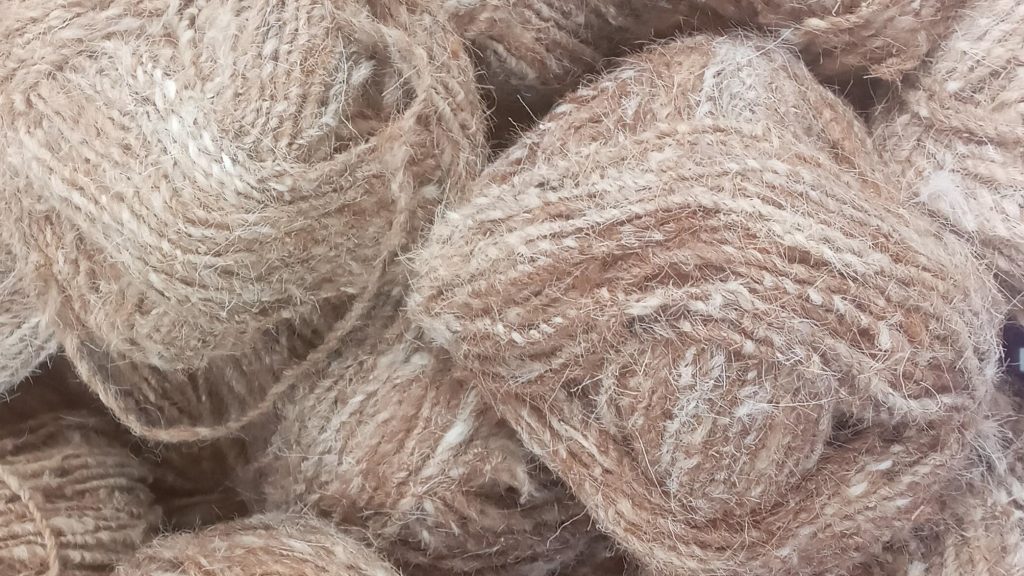 THERE ARE GREAT expectations for the future. The common feeling is that momentum has just been gained and they are only getting started. In the future, new operations could be transferred to countries where Abilis works. In different countries, the focus would be on other products.
Currently, the situation in Ethiopia is challenging. However, the work will continue.
Zeleke also has faith in the future. He underlines that he knows the feeling that people with disabilities have. He knows the challenges, attitudes and other difficulties. The journey is the same he has walked.
The focus is on empowering people. That is why he named his organization Empower People with Disabilities in Ethiopia Association.
"People with disabilities want to show that they are productive. They want to show that they can contribute to the development of their motherland."
Written by: Mika Niskanen / Fingo