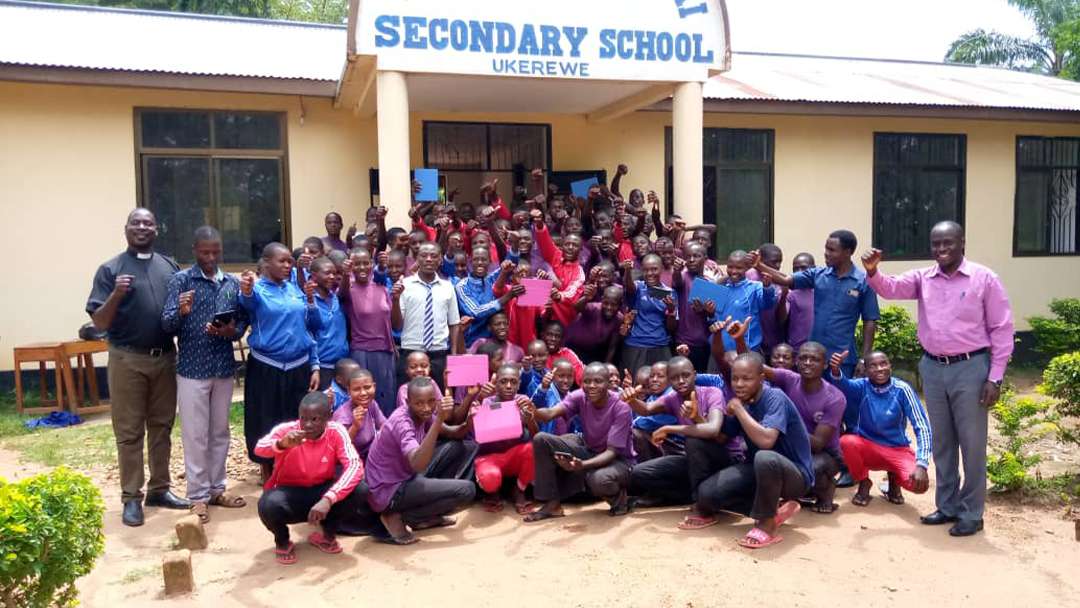 Use of Tablets for Education
College-going youth visited rural schools with tablets and shared information about online learning resources. Students were able to prepare for national exams with the tablets.
Introduction
Almost all children have the possibility to go to school in Tanzania. However, all the schools and children do not have equal access to digital equipment and educational resources. In rural areas, schools do not necessarily have computers or electricity.
Over the years, the Tanzanian government has created good sources of digital learning. Felm and its partner Nyakato Bible College thought that these resources should be reachable for every child.
The organizations decided to experiment with utilizing tablets to share information about the educational resources for children in rural schools. The plan was to give mobile devices and trainings to college-going youth. Then, they would visit two rural schools with the tablets and share information about online educational content.
The aim of the experiment was to: 1) test how the network runs in two schools which are located in the rural area; 2) test how the school children feel about learning with digital equipment and how they learn to use good web sources and; 3) test how small solar chargers work together with tablets in harsh circumstances.
Results
Three college students visited two rural schools with 11 tablets. Five tablets were given to students at Mwang'halanga secondary school and six tablets to students at Busangumugu secondary school.
Eventually, 200 secondary students got the possibility to prepare for the national exam using online materials and old test papers. The experiment was timed before the national exam.
Students in the rural schools received guidance on how to use the tablets and how to find useful information online. Besides the main function, the small solar chargers were handy sources of light in the evenings.
According to a questionnaire, approximately 75 percent of the respondents (70 students out of 93) noted that the experiment had helped them. The questionnaire was answered in one of the two schools.
There were also challenges. At first, the intention was to share information about COVID-19. However, this plan was not followed through because of the government's then approach to the pandemic. In addition, the number of tablets was limited, meaning that there were only a few tablets per class. This was tackled by providing educational content also in the paper (mostly old test papers).
There were multiple lessons learned. There needs to be flexibility to change the original plan and find a new target. It is also crucial to have good contacts with the local people to understand e.g. the political context and its effects.
Scaling
There have been some intentions to scale. Organizing short open courses is one option. The tablets could be also utilized in situations where students want to upgrade their studies; in these cases, the students could study with the tablets.
The experiment was conducted by Felm and Nyakato Bible College.